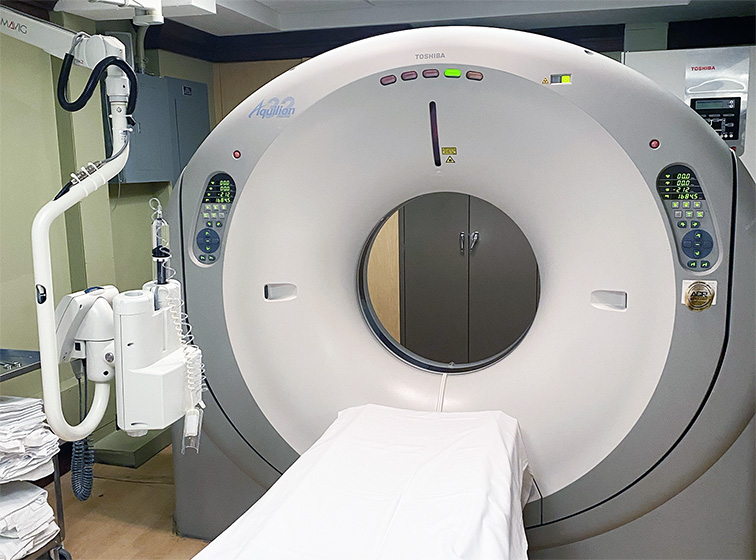 CT SCAN IN CONNECTICUT
When you get your CT scan in Connecticut at Greenwich Radiological Group, you'll benefit from experienced professionals, innovative equipment, and precise procedures that assist assure accurate findings.
What is a CT Scan?
A Computed Tomography Scan (also known as a CT scan or "CAT" scan) uses rotating x-rays and advanced computers to create detailed images of the structures inside your body to assist your doctor in making a diagnosis. In many cases, a contrast dye may also be used to improve the quality of the images. Each CT is tailored to the individual patient's medical needs to enhance diagnosis and reduce radiation exposure. CT scans are performed by certified technologists and interpreted by our board-certified radiologists.
How do I prepare for my CT scan?
If oral contrast is needed for your examination, you can pick it up from the office and drink it one hour before the examination time or you can come to the office one hour before your appointment and drink it while you wait. If you are receiving an injection of intravenous contrast, you should fast for one hour prior to the examination to minimize the chance of a gastrointestinal upset.
How is the CT Scan performed?

You will be asked to lie down on the scanning table. The table will then move into the scanner, which is an open ring about 1 foot thick.
The scanning table will move as the pictures are taken. It is important to lie still during the scan to make the images as clear as possible.
The exam may take anywhere from a few minutes to approximately 15 minutes, depending upon how much of the body your doctor has ordered to be scanned.
Radiation does not remain in your body, and you can resume normal daily activity.
What will I experience during the scan?
The scan itself is painless. You will hear a loud whirring sound during the scan. If your doctor has ordered contrast dye to be used, you will have an intravenous placed in your arm in order to inject the contrast into your body. While many people experience nothing when the contrast is injected, some people experience nausea, flushing, a warm sensation, or a headache from the contrast dye.
Is a CT scan safe?
CT scanners use x-rays to create images. The amount of radiation used is kept to the absolute minimum necessary. For female patients, if there is any possibility you may be pregnant or if you are breastfeeding, it is important to tell the technologist before the CT scan.
How will I receive my results?
Your doctor who ordered the study will speak with you regarding the results. Results are usually conveyed to the physician within 24 hours of the examination.
We are also offering our services throughout Fairfield County, Stamford, Darien, Norwalk, New Canaan, and Westport Fairfield. NY State: Port Chester, White Plains, Scarsdale, Mamaroneck, Rye, Larchmont. Please call 203-869-6220 to schedule an appointment.