Darren Fitzpatrick, M.D.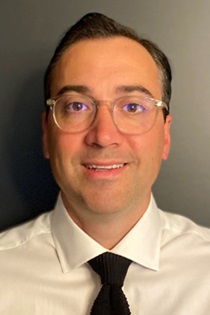 Dr. Fitzpatrick graduated cum laude from Boston College in 2001 with a Bachelor of Science in Biochemistry. He then moved back to his native New York to attend medical school at Albert Einstein College of Medicine in the Bronx.
After matching for radiology, he attended a transitional internship program in New Haven at Saint Raphael Hospital in New Haven where he received training in Internal Medicine, Surgery and Pediatrics.
Dr. Fitzpatrick then moved back to New York to attend residency at North Shore University Hospital where he was Junior Chief Resident and Chief Resident, graduating in 2010. He completed his training as a fellow in Musculoskeletal Imaging and Procedures at New York University/Hospital for Joint Disease.
After graduating fellowship, Dr. Fitzpatrick joined the radiology staff at Mount Sinai Medical Center in Manhattan as an Assistant Professor and became the Director of Musculoskeletal Procedures. After 5 years on staff at Mount Sinai, Dr. Fitzpatrick was promoted to Site Chief of Radiology at Mount Sinai Queens where he was in charge of inpatient and outpatient radiology operations and was promoted to Associate Professor in Radiology in 2014.
Dr. Fitzpatrick has multiple publications in the field of musculoskeletal radiology. Including MRI Clinics of North America. He is a Committee Member in the Society of Skeletal Radiology and is a reviewer for journals such as Skeletal Radiology, European Radiology and Radiology Case Reports.